45. FIGURE 8 PUFFER (Tetraodon biocellatus)
FAMILY: Tetraodontoidae
TYPE: Miscellanious (Pufferfish)
MAX SIZE: 3" (approx. 7cm)
ORIGIN: Southeast Asia
DIET: Carnivore
CHARACTER: Semi Aggressive (fin nipper)
MISC: although this species is caught in both freshwater and brackish water in the wild, it appears to be much hardier and long-lived when kept in brackish aquaria, unlike many other puffers, the attractive markings of this species do not fade with age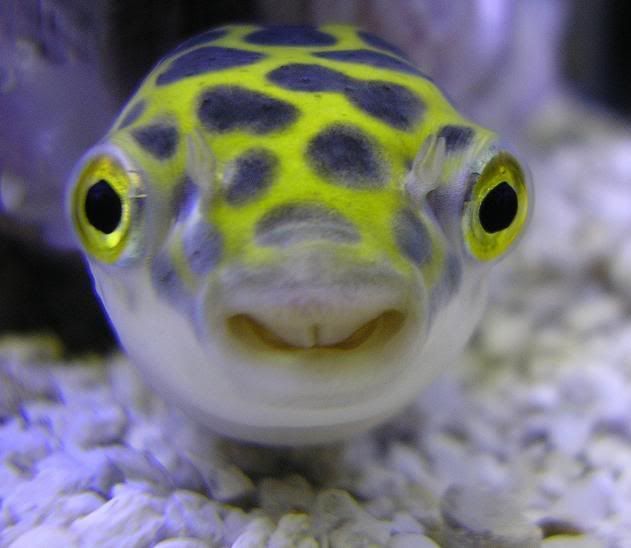 44. GREEN SPOTTED PUFFER (Tetraodon nigrovindis)
FAMILY: Tetraodontoidae
TYPE: Miscellanious (Pufferfish)
MAX SIZE: 6" (approx. 15cm)
ORIGIN: Southeast Asia
DIET: Carnivore
CHARACTER: Aggressive
MISC: requires brackish water for its long term health, keep in a species tank or with larger brackish fish, such as monos and archerfish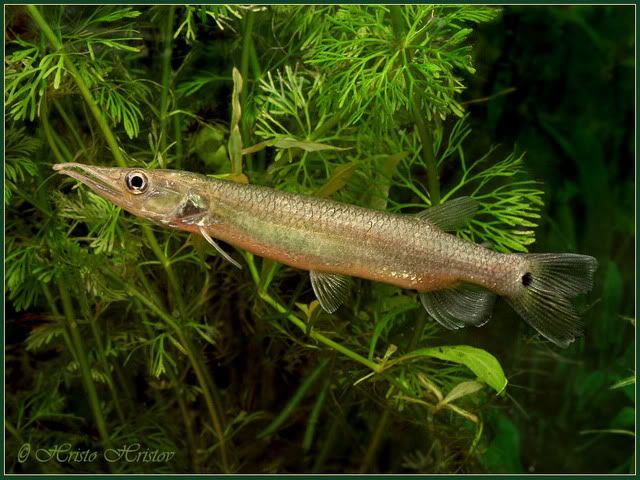 43. GAR CHARACINS (Ctenolucius hujeta)
FAMILY: Ctenoluciidae
TYPE: Characins
MAX SIZE: 28" (approx. 70cm)
ORIGIN: South America
DIET: Carnivore
CHARACTER: Aggressive
MISC: sometimes referred as "freshwater barracuda", best kept in schools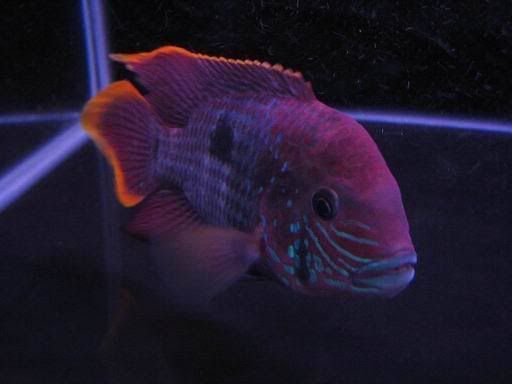 42. GREEN TERROR FACTOIDS / GOLD SAUM (Aequidens rivulatus)
FAMILY: Cichlidae
TYPE: Cichlids
MAX SIZE: 12" (approx. 30cm)
ORIGIN: South America
DIET: Carnivore
CHARACTER: Aggressive
MISC: keep with fish of a similar size and temperament, or with robust shoaling fish, such as larger barbs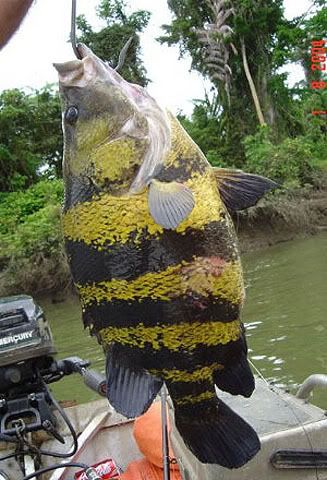 41. PAPUA TIGERFISH (Datnioides campbelli)
FAMILY: Datnioididae
TYPE: Miscellanious
MAX SIZE: 18" (approx. 45cm)
ORIGIN: Indonesia, particularly Borneo and Sumatra
DIET: Carnivore
CHARACTER: Aggressive
MISC: all tiger fish will turn unstable and blackish when stressed, this can be due to water condition, space constraints or bullying by other fish (even of the same species).